A day on the island of Strynø
A day on the island of Strynø
Your guide Kjeld lives on the small island Strynø alongside Langeland with Margareth, his wife from the USA. Kjeld knows everybody on the island - and everybody knows Kjeld. Han is an amazing storyteller and knows all that's worth knowing about Strynø.
On this tour, you will be encountered with warmth and you wil get a unique insight of how it is to live on one of Denmark´s small islands.  You only have to be minimum 20 and maximum 30 people and arrive at the ferry in Rudkøbing at 11 o'clock a.m. Then the rest wil be arranged for you. You even don't have to be starving when you leave the island again. We can arrange lunch for you.
Kjeld has lived quite a lot of years on Thule Air Base in artic Greenland. From here on he and his wife moved to Strynø. The leap was not that big. On the ait base and on Strynø you live in a dense community, peacely and quietly. Kjeld will show you the island, let you meet some of the brave islanders and tell you the incredible story of Strynø that won't die. They fight, and they fight well. There is a school, a kindergarten, a church, two restaurants, a grocery store, a museum - despite the fact that there are only 200 islanders!
Newcomers have undoubtly meant a lot. With enthusiasm, a strong will and a lot of unpaid work they have created a lot of acitivites and attracted funding for the harbour and several other means. The elderly on Strynø don't have to move to Langeland or Funen. Special housing for old people has been arranged.
Call us and let Kjeld show you Strynø. He speaks danish and english.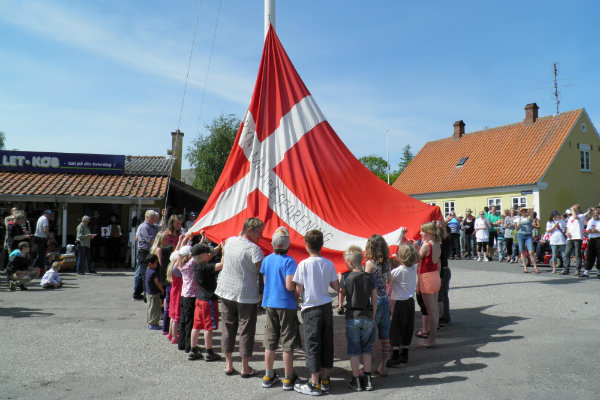 Rejsetips - "Få egne i Danmark er så skønne og smilende som netop disse ved det Sydfynske Øhav" Citat: Historiker Jørgen Barfod i sin bog om Admiral Niels Juel som købte Valdemars Slot i 1678.
Meet the locals: Karen Elberg
General Information
A day on the island of Strynø with Kjeld